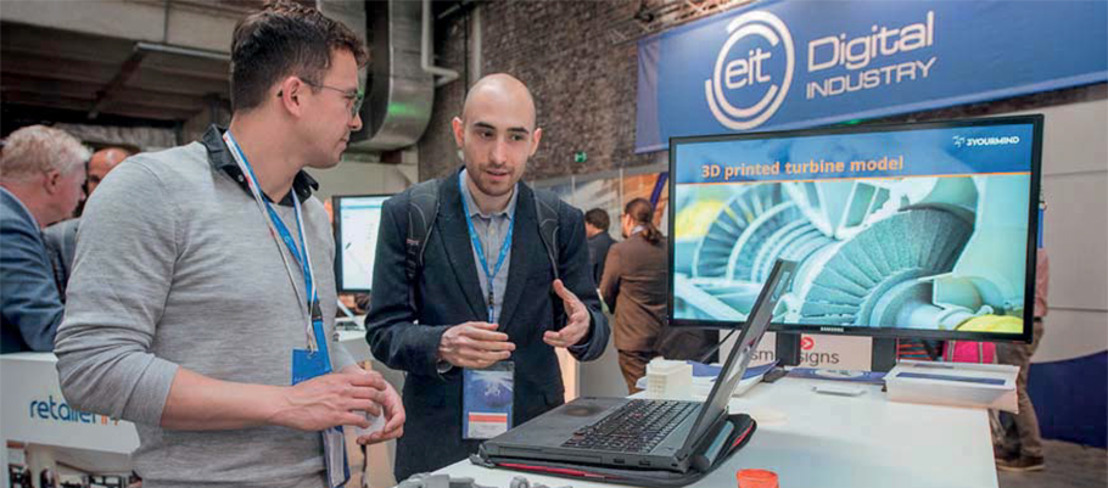 MEDIA INVITATION: EIT Digital Conference 2017
Tuesday 21 March, The Egg, Brussels
Tuesday, March 14, 2017 — Get a snapshot of the latest trends in digitalisation and meet the scaleups driving Europe's digital transformation at the EIT Digital 2017 Annual Conference on 21 March in Brussels, Belgium.
Why should you attend?
The EIT Digital 2017 Annual Conference offers an unmatched, one-stop-shop opportunity for media to get a comprehensive picture of the best-in-class European Digital innovation activities at a single event, and meet the scaleups who are driving Europe's digital transformation.
The opportunities, challenges and benefits of Europe's digital transformation will also be discussed and explored in-depth by multiple panel discussions and key-notes with representatives from EU legislation
EIT Digital Conference 2017
Delivering Europe's Digital Transformation
DATE: Tuesday, 21 March 2017
VENUE: The Egg, Rue Bara 175, 1070 Brussels (Belgium)
SECTORS: Cyber Security, Retail, Manufacturing, Logistics, Big Data, IOT, Fintech, Wellbeing, Smart Cities, Mobility
If you have any questions in the meantime, please reach out to Alexis Poulin (+33 629 11 38 10 / alexis.poulin@eitdigital.eu)
About EIT Digital
EIT Digital is a leading European open innovation organisation. Our mission is to foster digital technology innovation and entrepreneurial talent for economic growth and quality of life in Europe. We bring together entrepreneurs from a partnership of over 130 top European corporations, SMEs, start-ups, universities and research institutes.
EIT Digital invests in strategic areas to accelerate the market uptake of research-based digital technologies and to bring entrepreneurial talent and leadership to Europe. Our innovation and education activities are organised in and around our co-location centres, where students, researchers, engineers, business developers and entrepreneurs come together to drive the digitalisation of society.
EIT Digital is a Knowledge and Innovation Community of the European Institute of Innovation and Technology (EIT). Since 2010, EIT Digital has consistently mobilised talent, ideas, technologies, investments and business across Europe and beyond to stimulate disruptive digital innovation. EIT Digital headquarters are in Brussels with co-location centres in Berlin, Budapest, Eindhoven, Helsinki, London, Madrid, Paris, Stockholm, Trento and a hub in Silicon Valley.